You thought the elections were over, right?!
Okay, this will be easy! I'll tell you who to vote for!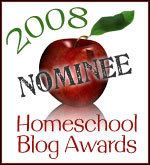 My blog has been nominated in the Homeschool Blog Awards for the category of Best New Homeschool Blog! Wow! I'm amazed and honored!
If you enjoy my blog and would like to vote, you can go to Home School Blog Awards That link will take you directly to the New Homeschool Blogs, and you can scroll down to my title, Never a Dull Moment.
If you'd like to see the other categories, you can go to Let the Voting Begin ! There you will see the categories–click on the one you want, and then you will see all the choices in that category. You can click on the blog name to check it out before voting! Who knows? You might add some new favorites to your roster!
Voting ends at midnight, November 21!
Thanks for letting me "campaign"!
(There, that wasn't quite as painful as the past few months, was it! )