Outside my window… It is getting dusky. It is COLD today with a biting wind!
I am thinking… I have a LOT of sewing to do!!!
I am thankful for… a warm home! And wonderful daughters who make yummy dinners and just generally spoil me!
From the learning rooms… I think we are now on Christmas break! No one is staying focused much, so this week and next will be "sewing for others" and "cookie making, 101, 201, 301…" for us!
From the kitchen… Firecracker Casserole, salad and Parmesan Toast
I am wearing… My navy jumper with mauve and light blue flowers, a white blouse and a white SWEATER!
I am creating… lots of things I can't type about!!!! (shhhh!)
I am going… Actually, I already went! Spent a nice afternoon shopping at our favorite antique store in Nappannee!!!
I am reading… The Heart of the King and Our Father Abraham
I am hoping… for snow!!!
I am hearing… a beautiful Christmas CD by Melinda Wickam, To God All Praise and Glory V (available from IBLP, and you can hear some samples there, too!)
Around the house… Susannah is fixing dinner, Isaiah is helping
, Jessica, Leah, and Cassia are sewing (sequestered away in their rooms!), Anna, Bekah and Charissa are either making their Christmas list or going over theirs (I'm about to do the major task of coordinating 7 lists!!!). Noah said he is with Jessica "and she hewing"! (He doesn't say his "s" sound!)
One of my favorite things… is the camaraderie my children and I have. I love the busy and loving interaction of our family (well, most of the time, anyway!!!)
A few plans for the rest of the week: SEW SEW SEW SEW SEW SEW, and maybe…….sew some more?!
Here is picture thought I am sharing…
Okay, I can't make up my mind!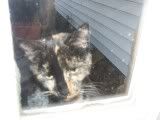 Can't I please come in?! I promise I'll be gooooood! (me-OW!)
"Wee" Three Kings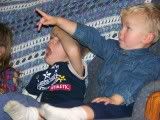 "Wo-ah! Look! Neeaaat!"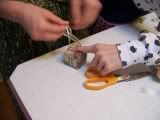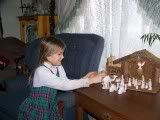 Bekah with the Nativity set Dallas' mother made years ago.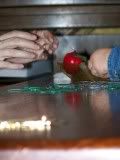 Blessings on your day!